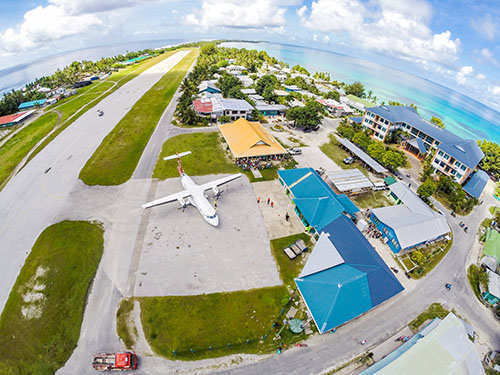 Singapore, 4 March 2021: ABS has reinforced its commitment to the delivery of high-speed connectivity to the remote Pacific Islands and upgraded Tuvalu Telecommunications Corporation's (TTC) network to bolster essential connectivity to its population.
International and inter-island voice and data connectivity in Tuvalu is provided exclusively by the deployment of satellite links. Due to the geographic location and distribution of the nine islands, satellites are the only feasible technology that can provide inter-island connectivity.   TTC plans to expand ABS coverage to the rest of the outer islands (Nanumea & Niutao are the last two Islands left) and increase bandwidth. As part of its investment plan for the next five years, TTC is also  planning to extend 4G mobile coverage (started this year) to the outer islands using ABS satellite link.
"Through the expansion plans with ABS, we are able to continue the support of critical communications on Tuvalu, ensuring that the necessary infrastructure is constantly available to support the needs of our population," commented Tomalu Talu, Acting COO of TTC. "An increase in satellite bandwidth is considered important at this point of time because it will help meet the rapid demand growth of ICT in the present Tuvalu Market."
"Due to the remote nature of the Pacific Islands, satellite provides the ideal means of connectivity to link the islanders with the rest of the world," said Jennifer Blasko, ABS' EVP of Sales & Marketing.  "At ABS, we understand the importance of this connectivity to the Pacific Islands' economy and the expansion on the islands of Tuvalu to continue the support of critical communications that meet the needs of the population."
###
About ABS:
ABS is a global satellite operator and offers a complete range of tailored solutions including broadcasting, data and telecommunication services to broadcasters, service providers, enterprises and government organizations.
ABS operates a fleet of satellites; ABS-2, ABS-2A, ABS-3A ABS-4/Mobisat-1 and ABS-6. The satellite fleet covers over 93% of the world's population across the America, Africa, Asia Pacific, Europe, the Middle East, CIS and Russia.
Headquartered in Bermuda, ABS has offices in the United States, UAE, South Africa and Asia. ABS is owned by Permira, a European Private Equity firm.
For more information, visit www.absatellite.com
About Tuvalu Telecommunications Corporation:
Tuvalu Telecommunication Corporation (TTC) also known as Tuvalu Telecom is a state-owned enterprise. TTC was established by the Tuvalu Telecommunications Corporation Act 1993. A sole provider of fixed telephone communication services, mobile services, and internet services to the rest of the country. TTC rely solely on satellite communications.
For more information, visit www.tuvalutelecom.tv