Asia Insights from Vincent Lim, VP of Media Sales
Video Distribution in a Disruptive Era
Fig 1: ABS-2 East Hemi Standard C-Band Coverage Map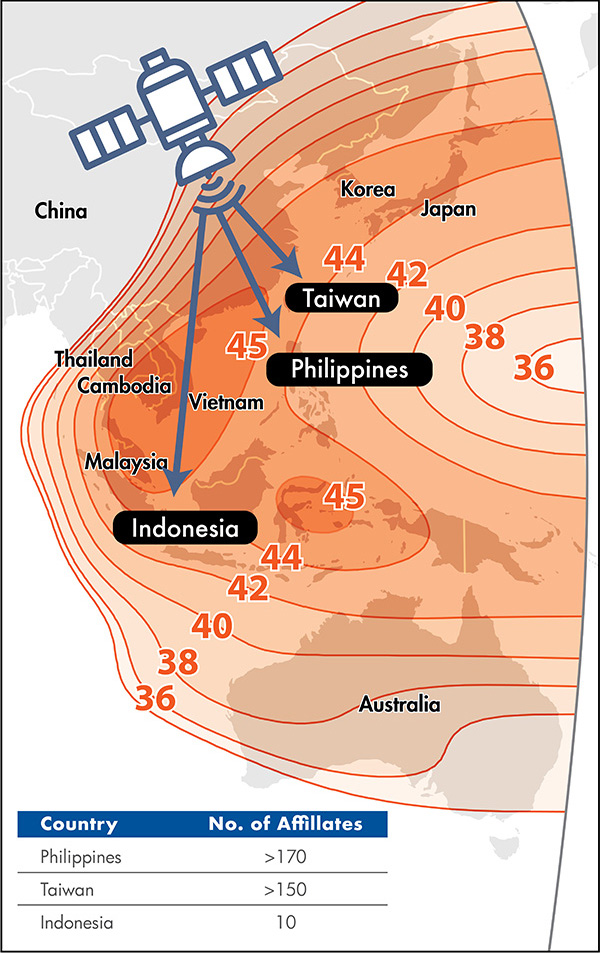 While Subscription Video On-Demand (SVOD) is increasing in popularity, linear video remains very much relevant for major broadcasters and channel providers. Nevertheless, broadcasters must contend with the ever-reducing carriage fees while satellite distribution costs have not come down fast enough for many channels to remain profitable. Smaller channels have countered this trend by delivering through a myriad of available internet delivery technologies. Some larger broadcasters have sought to completely remove less profitable linear channels and only serve their content through Video On-Demand. This act removes the content from some pre-dominantly linear and advertisement focused markets such as the Philippines and Indonesia, thus missing revenue opportunities from these markets.
Video distribution has changed dramatically over the past few years with improved reliability on internet delivery and the number of take ups for linear channels has reduced. In the past, broadcasters put up channels on "Hotbird" satellites that have C-band coverage across the whole of Asia and extensive on-ground receive antennas to reach their affiliates. Today, broadcasters have instead sought a combination of internet delivery for lower tier channels and, satellite and fiber for premium channels to reach their affiliates. Fiber pricing in developed markets is sufficiently affordable to enable broadcasters to deliver HD channels to up to 20 affiliates without the need for a satellite. However, fiber and internet delivery mechanism may not be possible in some markets where terrestrial infrastructure is not reliably cost effective enough and there are hundreds of affiliates to reach. The Philippines market comes to mind when these 2 factors are considered. Furthermore, major broadcasters are also keen to localize the channels to cater to the taste of the Filipino and capture a large share of the advertisement pie.
The Philippines is a unique market in Asia in terms of video distribution. It is a country with more than 7,600 islands and a large population of more than 100 million that is very influenced by American culture. TV programmes are designed with this bias to meet the local demand. Sports channels are filled with baseball and basketball programmes instead of football. With such a large population, the Philippines is a very attractive market for advertisers. What better way to reach an audience than via programmes that cater to local needs. Furthermore, the Philippines market has more than 300 Direct-to-Home (DTH) platforms, Cable Operators and Multiple-Systems Operators (MSOs) which present a challenge in channel distribution. As such, satellite is the obvious go-to solution in this scenario. However, building a channel and delivering it through a "hotbird" widebeam satellite can be expensive for many broadcasters. The benefit accrued from having a widebeam coverage across Asia is simply not viable for a localized channel that is only designed for consumption in the Philippines.
The ABS-2 Eastern Hemisphere (E Hemi) standard C-band coverage is just the right fit for this localized requirement. Focusing mainly on what we believe will continue to be key satellite markets for the future, the ABS video distribution solution is designed to enable localized channels going into the Philippines, Indonesia and Taiwan. In terms of video distribution, these markets have more affiliates than other South East Asian and North Asian markets where the ABS-2 East Hemi beam covers. ABS has also seeded antennas in these markets to support the distribution of recognized international channels and a local Taiwanese service provider. The fact that the beam coverage is smaller versus a wide-beam satellite renders that beam a lot more cost effective against other satellite operators for this localized channel distribution sector. After all, the beam is only required to cover the countries intended for the localized channels.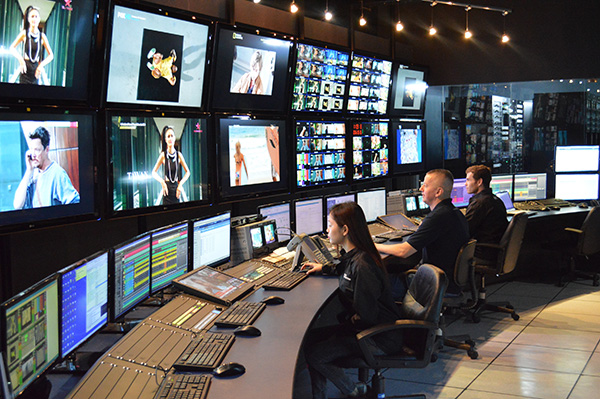 Fig 2: ABS Master Control Room in Subic Bay, the Philippines
ABS' teleport in Subic Bay, the Philippines provides a comprehensive facility to enable video distribution. The teleport is equipped to support services including downlinking of service from a host of satellites, local playout, advertisement insertion, encoding, encryption, multiplexing and uplinking onto ABS-2. The ABS team is comprised of experienced broadcast personnel to monitor and operate the channels, both turnaround or locally originated channels. Various international broadcasters past and present have trusted ABS to provide distribution with many channels targeted for distribution in the Philippines due to the regional strength of the ABS video neighbourhood.
While the move to SVOD continues unabated, linear channels are here to stay in some markets. They will probably need to be adapted to suit the needs of the current market demand. The same goes for video distribution. Broadcasters looking to optimise the cost of delivery should employ a combination of internet and satellite distribution. Satellite remains the best broadcasting technology, essentially distributing one to many within its coverage area at a fixed rather than an escalating cost. ABS-2 East Hemi C-Band beam fits perfectly the need of localized channels going into the Philippines and Indonesia.