Herndon, VA/ 29 April 2020 – COMSAT Inc., the global satellite connectivity solutions provider, has ratified an agreement with ABS, a global satellite operator, to enhance and strengthen the COMSAT global network. The addition of the ABS-3A satellite to the COMSAT Southbury, Connecticut teleport services bolsters its reach throughout the Americas, Europe, North Africa and the Middle East to provide more resilient and robust connectivity solutions through its terrestrial fiber pathways.
A 14.2M antenna delivering C-band services and a 9M antenna, providing Ku-band services, have been allocated to support the new partnership. As demand for data transmission increases globally the agreement focuses on providing multiple service options and strengthened satellite connectivity to deliver increased amounts of data, video, mobility, and government applications between the U.S. and international markets.
"Connecting with ABS-3A gives us augmented access to additional international markets from our east coast ground station to support a wider variety of data, content contribution, broadcast and distribution video services," says Director of Teleport Services, Chris Faletra. "Our mission is to enable partners and customers to effectively maximize the capabilities of space-based assets to optimize essential mission communication systems and ensure on-time and seamless operations, no matter how complex. This new agreement with ABS ensures we continue to do that."
COMSAT will participate in the ABSPlus program, which aggregates teleport infrastructures from around the world to seamlessly integrate ground networks with satellites globally. "As an ABSPlus participant we will supplement an already impressive set of high standard technology companies in the ABSPlus family, and plan to add value to the collective efficiency and reliability of network delivery. We are extremely excited to be part of such a powerful offering," adds Faletra.
"Our collaboration with COMSAT on ABS-3A reinforces our presence in the U.S. market and brings optimal C and Ku-bandwidth and services to enhance and accelerate new business opportunities in this market and other regions. ABS-3A offers prime C-and Ku-band payload capacity to support fast-growing data and video markets with comprehensive coverage in the Americas, Europe, the Middle East and Africa," commented Jim Frownfelter, Chairman and CEO of ABS.  "Through our ABSPlus services COMSAT will further expand its infrastructure, services and efficiencies on the ABSPlus platforms. This new relationship strengthens our commitment to excellence, global reach and flexibility through additional satellite-based connectivity options for our customers."
The announcement follows hard on the heels of COMSAT being named 2020 Independent Teleport Operator of the Year by the World Teleport Association at the 25th annual awards held in March this year. It also complements an ambitious expansion plan currently in process at COMSAT's Tier 4 WTA certified teleports in Southbury, CT. and Santa Paula, CA. On completion COMSAT will support more satellite constellation providers than any other terrestrial network.
The latest COMSAT investment also supports the full SD communications network. As part of the Satcom Direct family of companies, COMSAT works closely with the SD Data Center providing one of the industry's leading cybersecurity services. The SD Data Center in Melbourne, FL. allows customers to use the teleports as a bridge for both legacy and new networks through its in-house data center services. Access to its cloud services or any of the numerous cloud service providers is also available.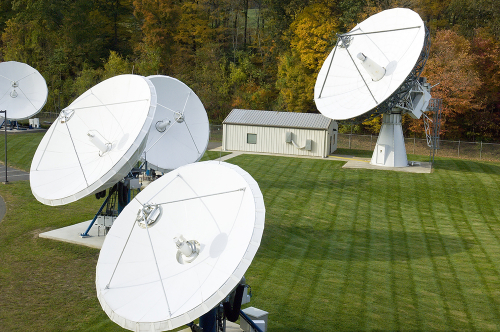 Antenna at the COMSAT Connecticut Teleport will enhance C- and Ku-band U.S. connectivity solutions on ABS-3A
About COMSAT:
COMSAT, Inc. is a leading operator of customized, secure end-to-end satellite communications services. We deliver a full portfolio of fixed satellite solutions (C-Band, Ku-Band, Ka-Band, X-Band and UHF) and mobile satellite solutions (Inmarsat, Thuraya and Iridium) to aeronautical, land-mobile and maritime users in multiple markets, including U.S. government and military, global governments, educational institutions and commercial maritime. COMSAT owns and operates two teleports located in Southbury, CT and Santa Paula, CA that provide various communications and data center services to commercial, government and educational institutions worldwide including end-to-end connectivity, co-location and research efforts, critical data backup and recovery, satellite and terrestrial network data center, cloud and cybersecurity services.
To learn more about COMSAT, visit http://www.comsat.com/.
About ABS:
ABS is a global satellite operator and offers a complete range of tailored solutions including broadcasting, data, and telecommunication services to broadcasters, service providers, enterprises and government organizations. ABS operates a fleet of satellites: ABS-2, ABS-2A, ABS-3A, ABS-4/mobisat-1, ABS-6 and ABS-7. The satellite fleet covers 93% of the world's population across the Americas, Africa, the Asia-Pacific, Europe, the Middle East, CIS and Russia.
Headquartered in Bermuda, ABS has offices in the United States, UAE, South Africa and Asia.
To learn more about ABS, visit: www.absatellite.com
##
| | |
| --- | --- |
| Media Contacts | |
| For COMSAT | For ABS |
| Jane Stanbury | Penny Hill |
| Arena Group | ABS |
| Jane@arenagroupassociates.com | penny@absatellite.com |
| +1 (438) 998 1668 | +65 81898835 |