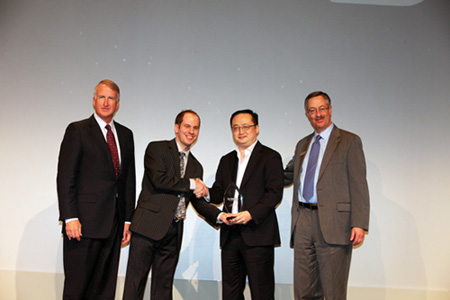 Left to Right: Craig Cooning (Boeing Satellite Systems International), Mark Holmes (Access Intelligence), Tom Choi (ABS), Scott Chase (Access Intelligence)
I would like to thank Via Satellite for this prestigious honor bestowed upon me and my organization Asia Broadcast Satellite.
Quite honestly I am still stunned to hear the news because our industry is full of so many accomplished executives and companies. Thus we receive this award with great humility and respect. This is also the first time for an Asian operator to receive the award so I am very grateful that this award recognizes the achievements of all of Asian operators.
Six years ago ABS was established when we purchased the LMI company from Lockheed Martin. After the initial euphoria of closing the transaction, I had the daunting task of defining a vision for the future.
Cover Story – Via Satellite's Satellite of the Year 2012, Tom Choi, CEO of ABS by Mark Holmes