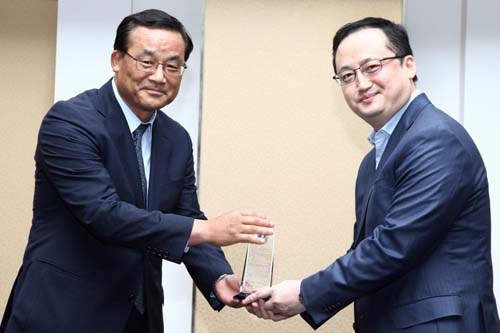 APSCC Hosts the 9th APSCC Awards
Honoring outstanding achievements in the Asia-Pacific satellite industry
Seoul, September 26, 2012 – The Asia-Pacific Satellite Communications Council (APSCC) announced the recipients of its 9th annual APSCC Awards at the APSCC 2012 Satellite Conference & Exhibition at COEX, Seoul, Korea. Based on a series of criteria set by the Awards Selection Committee, the awards are presented each year to individuals and organizations whose contributions and achievements have been deemed exceptional by the satellite industry and the Awards Selection Committee, consisting of industry experts.
Recipients of the 2012 APSCC Awards:
Satellite Executive of the Year in Asia-Pacific Award
Thomas Choi, CEO, Asia Broadcast Satellite
Thomas Choi is the Founder and CEO of ABS and has over 20 years' experience in the Satellite and Aerospace industry.  Since ABS's inception in 2006, ABS has become one of the fastest growing satellite operators in the world averaging over 30% year on year growth. ABS has four satellites in orbit serving customers from Asia to Africa from three premium locations at 3°W, 75°E and 116°E. The fifth satellite, ABS-2 is scheduled for launch in 2013, with two new Boeing 702SP satellites scheduled for launch in 2014 & 2015 for the 3°W and 75°E locations respectively.
Lifetime Achievement Award
Han Hwangbo, President, Space Technology Group, Inc.
Dr. Hwangbo Han is currently President of Space Technology Group based in the US. He has been in the forefront in the development of the Korean satellite industry for the past several decades. From 1990 to Year 2001, Dr. Hwangbo was the Vice President for the Satellite Business Group, at Korea Telecom and also Program Director of the Koreasat – 1, 2 & 3 Programs. He also served as the President of the Korea Aerospace Research Institute from 1989 to 1990.
The winners were selected by a committee of APSCC Officers based on nominations submitted by the members of APSCC.
"As a collective voice representing the satellite industry, APSCC has made a considerable effort to bring the various entities in the satellite community together for communication and cooperation. Each year, APSCC recognizes outstanding organizations and individuals through the APSCC Awards to honor them for their collaboration, guidance and support in helping APSCC reach its mission as well as for their contribution to the industry. This year, APSCC and the Awards Committee are pleased to honor the executives and veterans, who have taken the lead to enhance the satellite industry of the region"said Yutaka Nagai, President of APSCC.