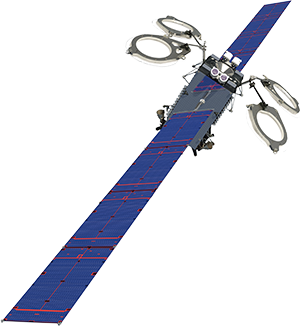 Featuring both Ku and C-band beams, ABS-3A is located at 3°W, connecting the Americas, Europe, Africa and the Middle East and extends our C and Ku-band coverage into the Atlantic Ocean region.
ABS-3A is equipped with three C-band beams, four Ku-band beams and a global beam, covering the Americas, Europe, the Middle East and Africa.
ABS-3A is a Boeing 702SP satellite with all-electric propulsion. Launched on a SpaceX Falcon 9 in March 2015, it entered commercial service on 31st August 2015.
Services:
Broadcast services
Broadband
Data and telecommunications
Cellular backhaul
VSAT solutions
Mobility & Maritime
Government and Military applications
PARAMETER
C-BAND
KU-BAND
Number of Transponders
24
24
Transponder Bandwidth (MHz)
72
72
Uplink / Downlink Frequencies (GHz)
5.850-6.425/3.625-4.200
13.750-14.750 / 10.700-11.200,
11.450-11.700, 12.500-12.750
Uplink / Downlink Signal Polarization
Linear (H&V)
Linear (H&V)
Cross-Polarization Separation (dB)
>27
>27
EIRP (Peak Value) (dBW)
38 (Global)
43 (West Hemi)
41 (East Hemi)
50 (Europe)
51 (Americas)
50 (MENA)
49 (SAF)
TWTA Size (Watts)
70
150
TWTA Redundancy
26 for 21 (can be operated up to 24)
24 for 19 (can be operated up to 24)
Receiver Redundancy
9 for 6
8 for 5
Uplink SFD (dBW/m²)
-80 to -100 (at -5 dB/K)
-76 to -98 (at -2.5 dB/K) (Europe and MENA)
-76 to -98 (at -1.0 dB/K) (Americas)
-76 to -98 (at -5.0 dB/K) (SAF)
G/T (Peak Value) (dB/K)
-3.0 (Global)
4.0 (West Hemi)
4.1 (East Hemi)
9.5 (Europe)
7.1 (Americas)
8.0 (MENA)
7.2 (SAF)