Satellite: No Boundaries for Broadcasters in South America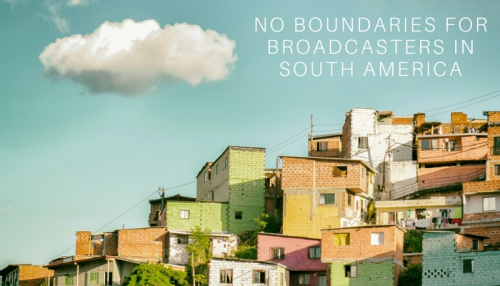 South America's population is estimated to be over 427 million and the pay TV market in Latin America reached 74.3 million subscribers in the second quarter of 2017, according to Dataxis research. This not only equals a massive TV nation but an opportunity that is geographically dispersed. Reaching these viewers presents quite a challenge for broadcast networks that need to deliver to the South American region, and at the top of this list of challenges is how to distribute their content to affiliated stations.
Affiliated stations are located all over South America, covering every country. They are located outside of urban areas, where the main networks are based. These stations provide critical network extension for the main broadcasters, enabling them to distribute their content to viewers in rural regions of South America. As these many affiliates are scattered across the continent, broadcasters need a highly reliable and cost effective medium to transport their content to those subscribers that cannot be reached through terrestrial means due to their challenging locations. This is where satellite really plays to its strengths.
Satellite is the key enabler for broadcast networks.  It is literally unrivalled in terms of mass distribution and cost-effectiveness. By using satellite to distribute TV channels, broadcasters can benefit from the low cost of investment and vast and immediate reach instead of going through the lengthy and expensive process of upgrading analogue microwave distribution networks or investing in fibre. There is huge demand for an increasing amount of TV channels broadcast in higher and higher quality and the most efficient means of delivering this content is over satellite.
But it's not just the reach of networks that is being transformed by satellite technology. For example, there has been an increase in popularity of digital cinema distribution using satellite for the broadcast of live events and unique content. To enhance this experience, an increasing amount of content is being distributed in 4K and is proving very popular across the region.
At ABS, we can satisfy this growing demand for both market segments; channel distribution and digital cinema distribution, though our extensive capacity over South America. Reach out to more TV markets in Latin America with the high-powered coverage of ABS-3A at 3°W.  With our dedicated C- and Ku-band beams over the Americas and other regions – we are able to provide optimal coverage for diverse media requirements with seamless connectivity that supports delivery of global, regional and local content. Our Occasional Use (OU) ad-hoc, flexible and reliable capacity allows you to deliver your content to any location in the beam footprint whether that is to North America or across Europe, all the way to Moscow.
Satellite communications can bring tremendous advantages, especially in terms of tapping into rural areas that have previously been very difficult to reach. ABS continues to support our customers across the entire region with a satellite fleet that can meet the expectations of the market, both today and tomorrow.