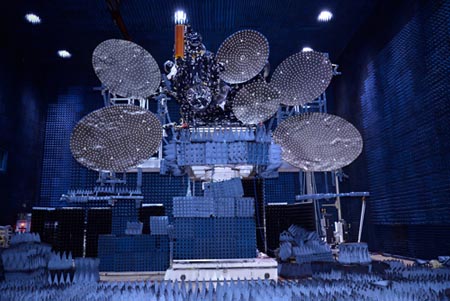 PALO ALTO, Calif. – December 9, 2013 — Space Systems/Loral (SSL), a leading provider of commercial satellites, today announced that the ABS-2 satellite, designed and built for ABS, has arrived at the European Spaceport in Kourou, French Guiana, where it will be launched aboard an Ariane 5 launch vehicle by Arianespace. ABS-2 is a highly sophisticated and flexible satellite optimized to provide multiple services for a broad swath of regions.
"ABS-2 is a very advanced satellite that has the capability to improve the human experience by providing services for 60 percent of the world's population," said John Celli, president of SSL. "We are pleased that the satellite has arrived safely at launch base and look forward to seeing it launch early next year."
ABS-2 is a multi-mission C, Ku- and Ka-band satellite, which is designed to provide multiple services including direct-to-home and cable television distribution, VSAT services, data networks, and telecommunications services across four continents. It will be positioned at 75 degrees East longitude, which is ABS' prime orbital location.
"SSL has provided us with one of the largest satellites ever to be launched in the Eastern Hemisphere," said Tom Choi, CEO of ABS. "With ABS-2, ABS will extend the reach of affordable and reliable communications and broadcast services to the emerging markets of the world. We are very excited that the satellite has been delivered to launch base and eagerly anticipate its launch."
ABS-2 is a high power satellite with an advanced data handling architecture and a total of 89 active C-band, Ku-band and Ka-band transponders across 10 different beams. The satellite includes six dedicated high powered Ku-Band beams for Direct-to-Home television services in the Eastern Hemisphere and provides high powered C-Band beams for Africa and Southeast Asia connectivity requirements. Its Ka-Band beam is positioned over the Middle East and North African region where it will provide service for both commercial and military applications.
ABS-2 is based on the highly reliable SSL 1300 platform, which provides the flexibility to support a broad range of applications and technology advances. It is designed to provide service for 15 years or more.
About ABS
ABS is one of the fastest growing premium global satellite operators in the world. With diverse IP transit through its Asian, African, European and the Middle East internet gateways, ABS offers a complete range of tailored solutions including broadcasting, cellular backhaul, VSAT and Internet backbone services. ABS' satellite fleet includes five satellites (ABS-1, ABS-1A, ABS-2i, ABS-3 and ABS-7) with its sixth satellite (ABS-2) scheduled to launch in January 2014. The ABS-2 satellite will be located in geostationary orbit at 75˚East and fitted with up to 89 active C, Ku, and Ka-band transponders. It will provide optimized direct TV broadcast, multimedia applications, telecommunications and data transmission services for Asia Pacific, Africa, the Middle East, Europe and Russia/CIS countries. ABS has also ordered two new Boeing 720SP satellites with the options to add more satellites over the next 2-3 years to its growing satellite fleet.
For more information, visit www.absatellite.com.
Contact:
Penny Hill
T: +65 81898835
E: penny@absatellite.com
About SSL
SSL has a long history of delivering reliable satellites and spacecraft systems for commercial and government customers around the world. As the world's leading provider of commercial satellites, the company works closely with satellite operators to provide spacecraft for a broad range of services including television and radio distribution, digital audio radio, broadband Internet, and mobile communications. Billions of people around the world depend on SSL satellites every day.
For more information, visit www.sslmda.com.
Forward-Looking Statements
This news release contains forward-looking statements and information, which reflect the current view of Space Systems/Loral (SSL) with respect to future events and financial performance. When used in this news release, the words "believes", "expects", "plans", "may", "will", "would", "could", "should", "anticipates", "estimates", "project", "intend" or "outlook" or other variations of these words or other similar expressions are intended to identify forward-looking statements and information. Actual results may differ materially from the expectations expressed or implied in the forward-looking statements as a result of known and unknown risks and uncertainties. Known risks and uncertainties include but are not limited to: risks associated with operating satellites and providing satellite services, including satellite construction or launch delays, launch failures, in-orbit failures or impaired satellite performance; risks associated with satellite manufacturing, including competition, cyclicality of SSL's end-user markets, contractual risks, creditworthiness of customers, performance of suppliers and management of SSL's factory and personnel; risk associated with financial factors such as volatility in exchange rates, increases in interest rates, restrictions on access to capital, and swings in global financial markets; risks associated with domestic and foreign government regulation, including export controls and economic sanctions; and other risks, including litigation. The foregoing list of important factors is not exhaustive. The information contained in this news release reflects SSL's beliefs, assumptions, intentions, plans and expectations as of the date of this news release. Except as required by law, SSL disclaims any obligation or undertaking to update or revise the information herein.