UAS: Prime Application for Satcom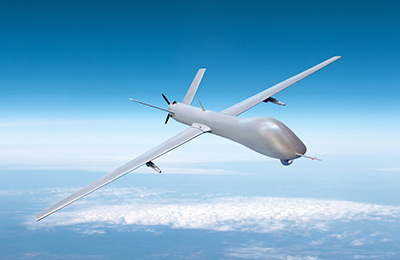 The government and military markets are great consumers of satellite communications. The regions where forces are deployed can be remote and the conditions in which they operate can be harsh and often out of range of terrestrial networks. Whether it is providing connectivity in response to natural disaster recovery, the  humanitarian community, tactical solutions to military outposts or mission-critical operations, users require solutions that are agile, quick to deploy and will operate no matter where they are. Satellite is a staple means of connectivity for government forces that require highly reliable, secure communications to enable a raft of applications that aid situational awareness and enable them to piece together the big picture.
For governments across the world, military spending is a priority. For example, the U.S. Government recently inked a $1.3 trillion spending budget, with $639 billion (49%) going towards defense spending.  Since 2016, the US DoD budget has increased by approximately $46 billion1 (source: Department of Defense, 2018).
NSR's 2017 report, Government and Military Satellite Communications, 14th Edition, found ongoing and expanding revenue growth across the global government and military markets. The report confirmed that Unmanned Aircraft Systems (UAS), Comms-on-the-Pause and maritime will remain priority applications to users and will comprise over 60% of revenue growth over the next decade. The UAS market in particular is of significant importance.
The meteoric rise of the UAS has probably been the biggest success story in the military aerospace sector and these systems have become a key driver for satellite connectivity for both civilian and military applications. Viewed as a safe technology and a force multiplier, UAS have many applications that include aerial mine detection; target reconnaissance; electronic jamming; radar jamming; flight path reconnaissance; command and control relay; nuclear, biological and chemical detection, border patrol and intelligence gathering.
UAS are available in high altitude, medium and long endurance models and are equipped with a plethora of sensors, HD video and imaging equipment that can give highly detailed data of what is going on in a target area. This information is invaluable in terms of decision making and delivering key Intelligence, Surveillance and Reconnaissance (ISR) and also combat capability. UAS can be used to do the monotonous and challenging work. They are able to fly for hours on end and deliver real-time, in-depth information on places and people of interest without the need to send troops out into the field. This brings an enormous amount of benefits to commanders who can operate much more efficiently and cost-effectively.  
High Integrity Data Links (HIDL) form a crucial part of UAS communications. The military relies upon this connectivity for the secure transmission of the video, imagery and data that is gathered by the cameras and sensors on board. These links must be highly secure, encrypted and resistant to jamming and interference and must allow complete control of the UAS, or multiple aircraft. They must also be available when required and deliver the bandwidth that can satisfy the hungry applications that UAS have on-board. In short, these data links underpin every UAS sortie.
Satellite communications are frequently used to connect UAS to the command center.  As a result, the use of satellite bandwidth for this purpose has skyrocketed in recent years as the need for these airborne solutions has become an integral part of the DoD.
In their report on the UAS market, Unmanned Aircraft Systems (UAS) Satcom and Imaging Markets, NSR projects a revenue opportunity of $19.7 billion for UAS satellite communications and $4.3 billion for commercial UAS imaging services between 2016 and 2026, with adoption rates increasing worldwide. The report found that most demand for UAS was coming from the U.S., China and Middle Eastern countries, particularly for Medium Altitude Long Endurance (MALE) airframes. NSR projects over 8,000 satcom in-service units by 2026 and MALE airframes will account for 75% of the market.
ABS: Meeting the Military Need
The combination of ABS' extensive fleet of satellites, our technical team and our industry-leading partners, ensure that we can meet the stringent and mission-critical demands of government and military customers for provision of communications for UAS. We work extensively with these entities to provide satellite capacity across the regions and conflict zones of the world where UAS are deployed. Our bespoke approach means that we deliver connectivity that meets the unique requirements of each customer and we provide constant customer support and technical assistance at every step.
As forecasted by industry analysts, we see the UAS market as a growing vertical where ABS can be relied upon to provide highly secure and immediate access to bandwidth whenever and wherever it is required.
No matter what the mission, ABS is ready to meet your requirements.